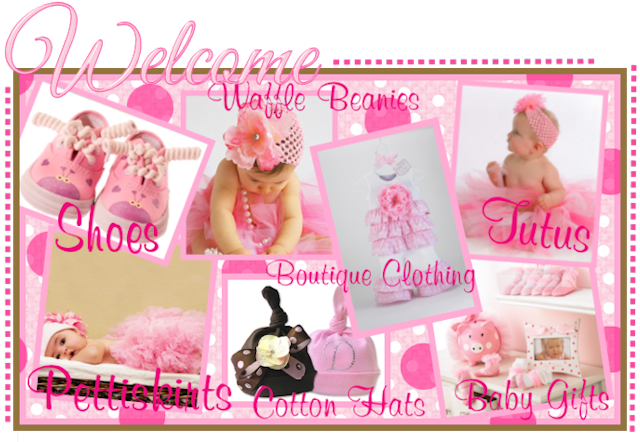 BooTiqueBaby is a chic childrens and Baby Boutique. We offer top designers, top quality, comfortable and unique baby clothing, Pettiskirts for Newborn to Girls that will make your baby stand out in any crowd. Products from Baby Bella Maya, Mud Pie, Monkey Toes, Little Fiori, Baby Nay and Kensington Baby. We are proud to announce the arrival of Indygo Artwear Clothing. Hand-Painted inCapetown SouthAfrica.
We offer finely handcrafted Tutus for that special occasion, babies first portrait, birthday or a unique gift. Our tutus are showstoppers made with soft tulle and quality fabrics and ribbons. We offer Baby and Girls Pettiskirts in various colors and sizes.

We offer a variety of Boutique hair bows, baby non slip hair clips, flower clips, crochet headbands and flower headbands.
Check out our range of Baby Bloomers from RuffleButts and Mud Pie Baby.

You will love our hand painted baby and girls shoes by Monkey Toes Shoes and Little Fiori. Our baby onesies are simply adorable.
Looking for unique baby gifts, dont look any further. We have Piggy Banks, Tea Sets and Keepsakes from Mud Pie that are simply gorgeous.
We hope you will find our baby boutique fun to shop and just down right cute.

We are always adding new stock so please check back often.
****If you love our Products as Much as we do please Share our Store with others and LIKE US ON FACEBOOK!!****